The highly anticipated and much revered cooler running season has arrived, it's time to rug up, lace up and clock up some serious miles.  Dressing for winter running is a skill in itself, it's important to layer to match the dropping temperatures and keep on hand those extra accessories unique to this activity and season.  So, let's zero in on those affordable must haves that are made with comfort and safety in mind, are temperature friendly and look good on too!
Own your run, cut through the wind ladies….
ADIDAS Women's Hooded Windbreaker
…with this very practical Adidas hooded windbreaker, ideal for those more forgiving winter days when 2 layers are enough, slip on your tech base layer then throw this practical number on and you will be comfortable, warm and remain dry in mild winter conditions.  It comes with a hood, zips up to chin level, has front pockets to store small lightweight valuables and details reflective strips a necessity for running in low light.   A signature of Adidas right now is their innovation with sustainability in mind, this jacket is made from recycled polyester which aims to decrease emissions during manufacturing.
Now shipping to Ireland. 
Smartwool Unisex Beanie
Keep the warm in and the cold (brr) out
We know how unpleasant it can be that moment we open the front door and tentatively crane our head into the chilly winter air.  The best way to avoid this discomfort is to get clever and crown your top with this toasty Smartwool Merino Sport beanie.  Snuggle the breathable fabric over your ears to lock in the heat and keep your head cosy, then off you go!  It's not heavy to wear either being made of lightweight merino wool and comes in this excellent unisex style and colour.  If you find the heat rising as you cover some serious distance, it's not at all bulky so will easily tuck into your jacket pocket.
Smartwool unisex beanie €22.49
https://www.amazon.co.uk/Smartwool-Merino-Cuffed-Charcoal-1FM/dp/B01GQX0AEK/ref=sr_1_2?dchild=1&keywords=Smartwool+Merino+Sport+250+Beanie+-+Cuffed+Wool+Hat&qid=1576375078&sr=8-2
Freedom to stride
Totally worth investing in gents are these Asics Performance leggings, totally perfect for your winter running workout.  It's just too cold to wear shorts, your legs will love you for the full coverage and you won't be restricted as you lift and drive through each leg swing – these leggings are constructed with elasticated fabric – including the waistband and has drawstring adjustment.  They come with a back zip pocket and high vis detailing, so you're seen in the fading light.   
Men's Asics lite show leggings €40

https://www.sportsdirect.com/asics-lite-show-tights-mens-454232#colcode=45423203
Fast drying exterior – heat trapping interior
What a winning combo ladies, and exactly what the running goddess needs, these Under Armour ColdGear running tights are nice and stretchy, so allows for free-flowing movement.  The backs of the knees are made of mesh panels which will help with ventilation as you clock up the miles and get some serious sweat on.  Fitted is a small zip pocket that could store the house key and features reflective details at the base of the leg to increase your visibility.  An hey if you forgot to wash them before your next run, not to worry, these must haves have anti-odour technology that keep odour producing microbes at bay – nice.
Under Armour Women's Coldgear running leggings from €51.58
https://www.amazon.co.uk/Under-Armour-Cold-Tight-Legging/dp/B077XVBLDN/ref=sr_1_1?dchild=1&keywords=Under+Armour+Women%27s+ColdGear+Run+Tight&qid=1576375788&sr=8-1
Winter winds can wreak havoc on those lips
Exposure to cool air can dry and potentially crack your lips, we know how painful this can be!   This is an essential for any runner, Burt's bees lip balm creates a soothing moisture barrier that even the wildest winds won't be able to penetrate.   A great product with a conscience – it is not tested on animals and is SLS free (less likely to cause skin irritations).  We recommend this value pack so you can always leave one in your running jacket and never be without, one with a refreshing mint finish the other a pleasant vanilla bean flavour.

Burt's Bee Moisturising Lip Balm – duo value pack €4.19
https://www.amazon.co.uk/Burts-Natural-Moisturising-Beeswax-4-25grams/dp/B017NMJPTY/ref=sr_1_5?crid=3579PU1AFFR4A&keywords=lip+balms&qid=1576312859&smid=A3P5ROKL5A1OLE&sprefix=lip+balm%2Caps%2C680&sr=8-5
Happy hands for all
As we stretch it out and swing our arms with each stride along our well-heeled trail, our hands are at the mercy of the cool moving air.  There is nothing more distracting that freezing cold hands while out on a run, you want to focus on each stride and get into your flow so it's time to think of gloves as a necessity not a luxury for the winter runner.  We recommend these stylish Veni Masee touch screen gloves – how ingenious is that, you can still operate your touch screen devices while keeping warm!  Made in unisex colours and sizes with a soft warm wool lining, lock these in before your next run.
Veni Masee Winter unisex gloves €6.99
https://www.amazon.co.uk/VENI-MASEE-Winter-Touchscreen-Texting/dp/B07JJQNBLY/ref=sr_1_4_sspa?keywords=wool%2Bgloves&qid=1576313219&sr=8-4-spons&spLa=ZW5jcnlwdGVkUXVhbGlmaWVyPUFTUlo2MzJJTDJKS1UmZW5jcnlwdGVkSWQ9QTAzMTk1MjgyMFBINDI2RDBHRU83JmVuY3J5cHRlZEFkSWQ9QTA2NzUwMzVSQTJXQ0FIREpGSUQmd2lkZ2V0TmFtZT1zcF9hdGYmYWN0aW9uPWNsaWNrUmVkaXJlY3QmZG9Ob3RMb2dDbGljaz10cnVl%2B&th=1&psc=1
Combine style with practicality
Perfect as a second layer on those less artic days training days, this jacket has a lightweight feel but a classic appeal, a zip up front so can be removed and slung around the waist when those muscles start generating some serious heat.  What is great about this runners' essential, is the fabric has been interwoven with elastane so will 'give' to your swinging arm movements.  Comes with front zip pocket to store your valuables and here's the clincher – this staple has sustainability in mind, made with recycled materials to save resources and decrease emissions. 
Mens Adidas rise up n run jacket €89.95
https://www.adidas.ie/rise-up-n-run-jacket/DZ1575.html
Happy feet for everyone
These beauties will provide the ultimate outdoor running experience by keeping those all-important footsies dry, a relief for any runner in winter because we know for sure our runners are going to get a tad wet.  Tested and developed in conjunction with Danish Olympic Runner Stina Troest (pretty cool huh), these merino wool Danish Endurance Booster Running socks have ribbed support, some extra padding along the toes and ventilation mesh on the upper side of the foot – so are totally built for temperature control and cushioned footing. 
Danish Endurance unisex merino running socks €19.95
https://www.amazon.co.uk/dp/B07Y3C9DL4?ref_=ams_ad_dp_asin_img
Fashionable and practical
You simply cannot go wrong with the women's Adidas Long Sleeve Runner base layer shirt.  Incredibly practical in style, not only will your entire upper body be grateful for feeling warm and snug, you won't need to worry about wearing gloves as this beauty has got you covered.  Adidas have engineered clever hole cuffs that are incorporated into the sleeves, pop your thumb through to fix in place and your hands will stay warm and cosy as you cut through the cool air on those calmer and drier winter running days.
Adidas ladies long sleeve runner €32

https://www.sportsdirect.com/adidas-long-sleeve-runner-t-shirt-ladies-456014#colcode=45601418
Warmth and keeping the sweat off
A perfectly affordable accessory to compliment the running wardrobe, but totally practical as it keeps sweat drops off your eyes and hair off your face when the breeze picks up.  This Reebok headband is nice and thick so will stay put and comfortably cover your ears in a one size fits all design.  The reflective logo has low visibility in mind.  It's easy care, which suits our busy lives, just throw in the washing machine and have it clean and ready to go for the next physical challenge.

https://www.sportsdirect.com/reebok-running-headband-768545#colcode=76854503
Base layer is tops guys
Remember to put a decent base layer at the bottom of all the layers, this is the recommended strategy for winter running.   Depending upon the winter temperatures in your area, you may need to invest in a medium-weight and heavy-weight base layer shirt.   Try this smart looking Under Armour lightweight long sleeve top, that zips all the way to the neck, and features quick dry, moisture wicking material that will keep your skin dry as you pound the pavement in the falling rain.

Mens Under Armour running top €31.14
https://www.ebay.ie/itm/UNDER-ARMOUR-TECH-1-4-ZIP-TOP-MENS-GYM-TOP-TRAINING-T-SHIRT-RUNNING-TOP-NEW-2016/252441931956?hash=item3ac6b630b4:m:mlszal42K-B_e_eGmQsMDaQ
Safety is a must!
Whilst the cooler temperature is perfect for runners, we know the light isn't as good, so safety becomes a major consideration. The Karrimor LED Armband will keep you out of the dark and very much on the radar, the minimal fuss elasticated strap will ensure this gem fits around any arm or leg.  The LED light has 2 settings, either blinking or constant and what's more it is totally water-proof, this is a staple for all runners and very affordable so buy for the upper and lower limbs peeps.
https://www.sportsdirect.com/karrimor-led-armband-765114#colcode=76511490
Don't be held back by the elements ladies
Avoid excuses to not run on a squally winters day, as long as you are certain you'll remain dry and warm there is no reason not to hit the pavement and earn back some calories.  You will remain temperature comfortable enveloped in this uber stylish Nike Aeroshield running jacket.  It has some clever design features that has definitely considered the running warrior  – a low cut back giving you optimal coverage of that fab tooshy, a high zip neck to keep the whipping wind out, zip on/off hoodie to adjust to the weather conditions on any particular running day, and is roomy enough so you don't feel 'trapped' and restricted as you hammer out some series miles. 
Women's Nike Hooded weatherproof running jacket €150
https://www.nike.com/ie/t/aeroshield-hooded-running-jacket-nD7qMm/BV3858-133
Hot hands
Hothands hand warmers will warm your gesticulation creators for up to 10 hours so they have you covered on the longest training runs.  They are very easy to activate, remove from the packet and give them a rattle and crunch, slide them easily into your gloves and soon enough you will feel the warmth radiate into the palm of your hands as you find your running rhythm.
Hothands hand warmers bulk buy 10 pairs €10.77
https://www.ebay.ie/itm/Hot-Hands-Hands-Foot-Body-Warmers-HotHands-Packs-Pocket-Heat-Feet-Gloves/273525414166?hash=item3faf629916:m:mzGuMU5JT4FNrNvU6YeWmCw
Snood – Nike VaporKnit Strike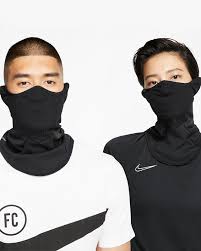 Okay so we know some days are beyond cold, we have the jacket and we have the beanie or we have the jacket hoodie combo, but the jacket only zips to the top of your chest.  What if you are in serious training mode, on a structured running program and simply cannot miss any scheduled runs.  You peek out the window and witness the trees bending horizontal it's so darn windy.  This is exactly what you need for those artic like days – the Nike VaporKnit Strike Snood (what a fab name) will literally protect and cover everything, and don't fret, you'll still be able to breath even if you look a bit like Darth Vadar! 
Now shipping to Ireland.