Have you been starving yourself to drop all the extra pounds? Have you been exercising religiously but the stubborn fat simply refuses to go away? Have you been drinking every weight loss herbal tea on the market but been unable to achieve your fitness goals?
You are not alone. Millions of people are struggling with obesity despite every possible effort to shed the extra weight. A supporting weight loss supplement can help you on your weight loss journey.
Weight loss supplements and vitamins augment your metabolism and help lose weight fast.
Here are 6 of the most popular weight loss vitamins and supplements in Ireland today.
1. XLS MEDICAL FAT BINDER DIRECT
BUY HERE at HOLLAND AND BARRETT — €29.99
XLS medical fat binder works on a unique principle. It does not burn the fat stored in the body outside the digestive system. What it does instead is that, it remains in the alimentary canal and binds the fat molecules present in your food, preventing the absorption and digestion of fats.
Unable to meet its demands from dietary fat alone, your metabolism turns to the stored body fat to produce energy for running body functions, helping you lose weight fast. XLS medical fat binding system has the potential to bind up to 27% of the dietary fats.
With dieting and exercising at the forefront, XLS medical fat binder has been clinically proven to accelerate the weight loss process up to 3 times than with diet alone. To keep tabs on your fitness progress, XLS-Medical offers a free support program which includes a free-of-cost 1-2-1 with the XLS-Medical dietician and online tracking to help you achieve your dream fitness objectives. Pretty amazing, right?
Now Shipping to Ireland.
2. NATURES GARDEN GREEN TEA EXTRACT
BUY HERE at HOLLAND AND BARRETT — €23.99
True to its name, each Nature's Garden Green Tea Extract caplet contains 750 mg of green tea extracts. These caplets are enriched with 40% polyphenols, the antioxidants found in green tea. These polyphenols help mobilize the fat stored in body, utilizing it for various metabolic processes. Not only that, green tea extracts also reduce appetite and induce early satiety, further contributing towards weight loss.
Nature' Garden green tea extracts caplets also contain bulking agents such as Dicalcium Phosphate and microcrystalline cellulose which help enhance the lean muscle mass. Other ingredients include anti-caking agents like silicon dioxide and magnesium stearate, and glazing agents hydroxypropyl methylcellulose, glycerine, and carnauba wax.
Green tea extracts help burn fat more while exercising. Therefore, for optimal effects, it is advised to combine Nature' Garden green tea extracts with a balanced diet and regular exercise.
Now Shipping to Ireland.
3. MYPROTEIN FAT BINDER CAPSULES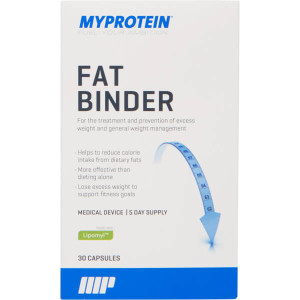 BUY HERE at MYPROTEIN IRELAND — €40.79
Fat binder capsules work by binding the excessive dietary fats to prevent their absorption which causes the fat stores to melt for meeting body's metabolic needs. My Protein fat binder capsules employ the exact principle, restricting your daily calorie intake.
The principal ingredient present in My Protein fat binder capsules is a plant-based fiber known as chitosan. Every two fat binder capsules have enough chitosan to bind around 60 grams of fat which amounts to about 540 calories. In simpler words, around 60 grams of fat are prevented from getting into your system, upsetting your cholesterol levels and adding to overall body weight.
These capsules are 4 times more potent than other fat binding capsules being marketed by binding 4 times the amount of fats bound by other capsules. The best attribute of these fat binder capsules is that they do not interfere with the absorption of fat soluble vitamins (vitamins A, D, E and K) and do not deprive the body of these essential vitamins.
Now Shipping to Ireland.
4. SLIMFAST ADVANCED VITALITY MEAL REPLACEMENT SHAKE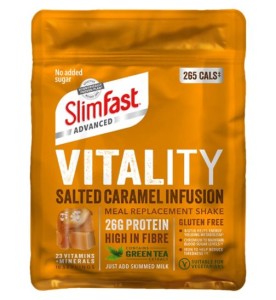 BUY HERE at BOOTS — €15.19
This Slim Fast advanced vitality meal replacement shake in salted caramel flavor is a whole meal which can help you slim down fast. A perfect blend of selected materials, the shake kick starts your metabolism for rapid weight loss. It also pumps up your energy levels to ward off fatigue and tiredness for better performance.
Each serving of Slim Fast advanced vitality shake consists of 23 essential vitamins and minerals. With high proteins and dietary fiber content and no extra sugar, this shake is a wholesome alternative to meals. Best results are obtained by adding powdered shake to skimmed milk and consuming it on daily basis.
The most important ingredients of the shake are soy protein isolates, whey protein, soya bean oil, and soya lecithin which help build up the lean muscle mass. Green tea and rosemary extracts in the shake also help gear the metabolism into action for burning excess fat stores.  The net result is a sculpted body that you have always dreamt of.
Now Shipping to Ireland.
5. MYDIET PREMIUM WEIGHT LOSS FORMULA
BUY HERE at MYPROTEIN — €42.49
MyDiet premium weight loss formula is a high quality protein blend that helps build up and sustain muscle mass. Every serving of MyDiet Premium Weight loss formula contains 26 grams of proteins. Another important ingredient is Glucomannan, which is a dietary fiber and helps lose all the extra kilos. This blend is also rich in pantothenic acid (vitamin B5) which stimulates the metabolism.
Another unique component of this formula is DigeZyme, a mixture of different enzymes such as amylase, lactase, cellulase, protease, and lipase. These enzymes break down the dietary components into their constituent parts and help in various metabolic processes, thereby enhancing the basal metabolic activity to enhance weight loss. 
This formulation also contains caffeine, cinnamon extracts, matcha green tea powder, CLA powder (conjugated linoleic acid), and choline (a chemical that enhances fat metabolism, burning all the extra body fats). These high quality nutrients help shed all the excessive weight.
Now Shipping to Ireland.
6. BOOMBOD 7 DAY ACHIEVER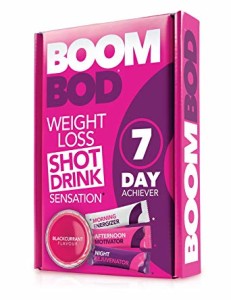 BUY HERE AT HOLLAND & BARRETT — €34.99
Boombod 7 day achiever is an effective weight loss strategy. With only 10 calories per sachet, this formula helps reduce weight rapidly when combined with a calorie restricted diet. The active ingredient of this blend is glucomannan, a water-soluble dietary fiber, which attracts water molecules and expands in size.
As it expands in stomach, glucomannan induces a feeling of fullness that tricks the brain into thinking that the person is full, thereby reducing appetite, and in turn, the body weight. It also aids in digestive functions and prevents bloating. The formula is also loaded with vitamins B1, B2, B6 and C, which enhance the metabolic processes for optimal functioning of the body, besides working wonders for skin and hair. 
The dual appetite-appeasing and metabolism-enhancing actions of Boombod 7 day achiever helps lose weight rapidly. Experts recommend taking a shot of this formula half an hour before every meal for maximal results.
Now Shipping to Ireland.